Pornstars Like It Big presents: Famous pornstar Sienna West gets her tight pussy fucked by huge monster cock
Scene Title: Cock-Hungry Pornstar Sneaks In Backyard To Lick A
Storyline: Guess who we found spying on a big cock? Sienna West! That's right, she was creeping into Johnny's backyard to watch him tan naked! What a horny slut! Well we decided to get the camera rolling to see what she would do... Holy fuck did she ever surprise Johnny!!! I mean it's not everyday you get a fucking hot babe like Sienna licking your cock while you tan! Man, we knew pornstars liked big cock, but this is just insane addiction!!!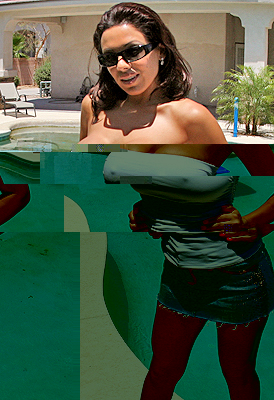 Pornstars Like It Big Sienna West Video Trailer
What people are saying about: Sienna West - Cock-Hungry Pornstar Sneaks In Backyard To Lick A pornstarslikeitbig scene
Comment #1
Sienna teases and looks at the camera making my dick hard! My dick was stiff when Sienna got spooned and her fucking huge tits were bouncing around! I love how Sienna POV to tell us how big and hard Johnny is and that her pussy is sore! Great camera angle for reverse cowgirl! Nice happy ending with huge load sprayed on Sienna! More Sienna is never enough!
Comment #2
These two are great together. Johnny puts on a first rate performance as usual and fucks her so good. I loved the way Sienna moaned and screamed and talked dirty. It was especially hot when she went to sit on Johnny's cock reverse cowgirl and she held up his monster before putting it in and commented how huge his cock is and how much trouble she thinks she is in. Just the expression on her face was great. His cock really looked huge holding it up in front of her pussy. I love the way he hosed her down at the end too. Very hot. Although I am not gay it's great to see a guy with a great bod and cock with these hot porn stars. Nothing worse than a lame guy in a scene. Ruins the whole thing.
Comment #3
Sienna you're a fox but Johnyis fucking fantastic.i know that he's no superman and that other guys can fuck as hard and as enduring as he does but he's so goddamn fine.I mean he gives you face body and dick.And he looks so good while he's pounding pussy and his handsome face eating his partner out.I revel in this guy and there is noone that can top him as far as I'm concerned.I actually joined Brazzers just to be able to see him in action and he is brilliant each and evertime.I would really like to see him fuck a girl who can really goes crazy with him and forgets the fact that they are on camera.Does he have a girlfriend or wife?
Comment #4
Sienna is soo fucking hot!!! Her tits are awesome. Her pussy is amazing. I cum so fucking hard when I watch her
Comment #5
i really liked this pornstars like it big scene becuz i love sienna's hot moans and screaming and how she takes cock really well. i got some knocks on this one tho... for one thing she acts like a slut with ADD... she constantly puts the cock in her mouth and takes it out, puts it in her mouth takes it out again. keep it in ur fucking mouth and suck it like hell! and second, she keeps saying how big his cock his, like literally within the first couple of min that she was sucking him off near the pool, she must have said it 10 times... shut the fuck up and put the cock in ur mouth bitch! other than that, i loved it, and i love her huge titties!
PornstarsLikeItBig Sienna West Picture Gallery