Pornstars Like It Big presents: Shy Love takes home her dessert with a big dick on top
Scene Title: Do You Want Dessert?
Storyline: Shy Love heads off to a local restaurant where she hopes to find a waiter with a big piece of meat. Luckily for her Johnny is serving her tonight and desert is on the house.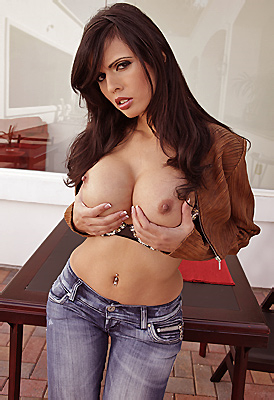 Pornstars Like It Big Shy Love Video Trailer
What people are saying about: Shy Love - Do You Want Dessert? pornstarslikeitbig scene
Comment #1
Almost the perfect short scene. Half as long as some, but twice as satisfying. Shy is definitely under-used. Her flawless body (no tats), endearing overbite, and her delicious squeal when surprised, make Shy one of the best. Johnny rarely disappoints and is right on form here. Definite 10/10.
Comment #2
i always over look her but she is pretty good. She sucks dick like a woman actually does, without slobering like a dog. She looks damn good in ligerie even though she doesn't wear it in this one. She should always wear stockings and heels too.
Comment #3
She looks great here, very horny during the pornstars like it big scene, you can tell! Her butt got larger, and it looks very nice, when she got into the doggy position, and her butt started to bounce, that was awesome footage, but the angle changed, then she held her butt cheek open, which stopped the movement a lot, and hurt the scene a bit! The other positions, and changes were good, great finish, open mouth, tongue out! 10 out 10!
Comment #4
great doggy scene! Great nipples! Not the hottest brunette on the site, but gets an A in my book. I'm open to debate why the producers selected Tiramisu as the desert of choice? As a mexican what's wrong with flan?
Comment #5
Wow really bad story here. They made it seem like any dude could walk up and say he has a big cock and get laid. Could have worked somewhat harder for a story. You know what I've noticed about Shy is: she will you give the best effort to the max as long as her partner is hot enough for her. She has done her share of lame scenes. Recently saw her with Ramon Nomar and she really brought it. This time she even went a step further. She gave Johnny everything she had with icing on top. She rode his cock like a champ. She was begging to get fucked. I've never been impressed with her more than I have been today. Snoogans!
PornstarsLikeItBig Shy Love Picture Gallery