Pornstars Like It Big presents: Accusers and Defendents in a massive courtroom orgy
Scene Title: People vs. Pornstarslikeitbig
Storyline: The case of "The People Vs Pornstars Like It Big" has officially started, Judge Puma Swede Presiding. The Prosecution team, consisting of Abbey Brookes and Jordan Ash, claims that the Website is discriminatory towards the people for its misuse of big cocks. The defense team, consisting of Rachel Starr and Eva Angelina believes in Freedom of speech, as well as freedom to have a Big Cock. Both Parties exchange their arguments, until all hell breaks loose. Court's in Session.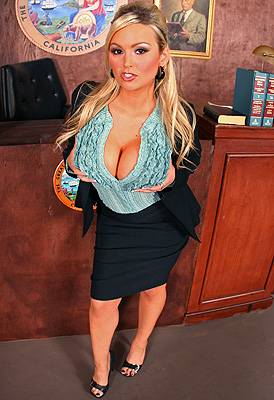 Pornstars Like It Big Abbey Brooks, Eva Angelina, Rachel Starr and Puma Swede Video Trailer
What people are saying about: Abbey Brooks, Eva Angelina, Rachel Starr and Puma Swede - People vs. Pornstarslikeitbig pornstarslikeitbig scene
Comment #1
Well. this was an absolutely brilliant pornstars like it big scene. Good production values, a great setting/situation, and a hot montage of sex with four fantastic ladies. Luckily for me, I'm a big fan of all four of them (I can't see how any red-blooded heterosexual male couldn't be). Jordan was typically first class, and didn't slack as he provide an A1 service to all four of the girls. The only slight weakness in the scene was the other guy (was it justice?), who had trouble getting and staying hard. It might not have been his fault, as he could have been working on another scene the same day I suppose, but it was a pity because a scene this lavish needed two fully charged guys with staying power. Still, he did manage also to service all four of the ladies in the end, so it wasn't too much of a let down. You surely can't fail to be turned on by this orgy of multiple cock sucking and pussy fucking starring these four wonderful babes. A big thanks to them and all others involved - your work is really appreciated, and brightens up an often too depressing world. I'd love to see more big, multiple star scenes like this from Brazzers. I know they must be comparatively expensive to make, but they are definitely more than worthwhile.
Comment #2
The scen is perfect, but why BRAZZER just tell why !!!! some time the HG PICTURES are much better than the video, I donsload the picture and the scens is completed diferent than the video, I don care but the thing is taht teh acen in the HQ PINTURE is much beter. I love the huge great ass of Abbey and the HQ I saw several dogy style in her and some good pictures of her ass, but in the video I never saw somebody doing her dogy style and even a good shot of her ass... These is no teh firts time, you do the same in MLB in the boat scene whit Austin en Ava, teh HQ are hotter that the video.....
Comment #3
This pornstars like it big scene was the reason to finally sign up! High production values of a courtroom scene shows how far you guys have come in a couple short years. I think everyone who enjoys this sight is very fond of the idea in the hypocracy of the authoritative woman figure who is supposed to uphold ethical and moral values of their positions (teachers, doctors, bosses etc.) and seduce their students or patients, and nothing epitomizes this more so than a prosecutor and judge against porn just losing it in court. I just wish the story wasn't so campy and a little more serious. Maybe next time, you can have the defendant as a peeping tom with a female procecutor, female defense attorney, female judge and female bailif. No need for more than one dick, in my opinion. Or a female judge and defendant in the judges chambers! I look forward to more high production vignettes in the future.
Comment #4
Rachel Starr, Eva Angleina, and Jordan Ash carried this pornstars like it big scene. Justice kept disappearing from the scene (couldn't keep a hard-on) and when he did have a hard-on, it seemed like he only wanted to bang Eva. Though I can't fault him for that, it ended up making Jordan pick up the slack with the other three. The funny thing is Jordan still ended up banging Eva better than Justice, even after he drilled the other three. I also gotta give props to the limp dick Alex Gonz for getting clowned the way he did.
Comment #5
Had the makings of the best pornstars like it big scene ever, brilliant set up but maybe one girl too many. Jordan & Eva were amazing together and Rachel & Abbey were hot as always! No complaints here - keep the excellent scene ideas cumming Brazzers! ;-)
PornstarsLikeItBig Abbey Brooks, Eva Angelina, Rachel Starr and Puma Swede Picture Gallery