Pornstars Like It Big presents: Savannah Stern gets hynotised by the size of her friends big hard cock
Scene Title: The best way to wake up
Storyline: Porn star Savannah Stern is a real big cock lover so when she went over her friend's house and found her friend's brother sleeping on the couch with half his huge cock sticking out of his underwear she couldn't help it and jumped on it without thinking it twice!! Obviously he was surprised to wake up and see Savannah naked on top of him but he wouldn't ask any questions and certainly not pass on the opportunity of banging his sister's horny friend and giving her the pounding of her life!!!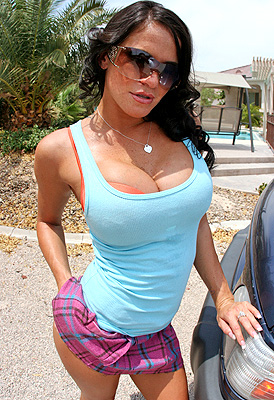 Pornstars Like It Big Savannah Stern Picture Gallery
What people are saying about: Savannah Stern - The best way to wake up pornstarslikeitbig scene
Comment #1
i loved her in this scene. from her sexy outfit to her sex appeal, i highly recommend dowloading it so you have it. it will be one you watch more than once.
Comment #2
savannah never dissapoints. this girl just loves fucking. i actually liked her better with her natural tits, but this new rack is pretty nice as well. not many other pornstars can put out this natural energy and enthusiasm like savannah.
Comment #3
Great one!! 10/10 !!
Comment #4
Glad to see everyone impressed with her new FRIENDS. She might need a new pussy that is actually tight and small. She just got a hold of a really BIG UNIT and barely flinched. All that cum and you missed the target. Oh yeah those boots were hot, you jackhole. Snoogans!
Comment #5
this may have been one of the hottest vids I have ever witnessed!!! Please bring her little potty mouth back for a two huge-cock blowout.