Pornstars Like It Big presents: Gina and Jenna fucking the butlers huge cock
Scene Title: Naughty and Nice Bitches
Storyline: Gina just bought a brand new house the size of big boobies and wants to show it off to her friend Jenna. When Jenna arrives she gives her a tour of the house along with a tour of her butlers big dick.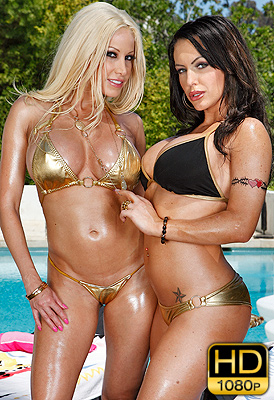 Pornstars Like It Big Gina Lynn and Jenna Presley Video Trailer
What people are saying about: Gina Lynn and Jenna Presley - Naughty and Nice Bitches pornstarslikeitbig scene
Comment #1
One of the best scenes I have watched in a loooong time.
Comment #2
Gina was great as usual. I always look forward to Jenna P and her perfect tits but this time she was not her normal super hot self, Good scene but had Jenna be on her best fucking behavior it would have rocked.
Comment #3
Jenna looked stunning with her darker hair. Gina still has the face, the body, and lacking in the most important area. Jenna did everything she could to keep a triangle of sex going. She ate pussy, sucked cock, squirted, and even sucked on balls. Gina did everything you shouldn't do like play with yourself, hardly touched Jenna, and said she was bored. And she keeps returning for what reason? Jenna is by far reaching higher in every scene. So thanks for entertaining us. Snoogans!
Comment #4
oh fuck yes! I popped my porn cherry on Gina and Jenna is the best noob there is!
Comment #5
fawkface1, I thought the same damn thing when I saw that, lol! And then I saw Jenna's face buried in Gina's ass while getting it behind and the squirting and could only think of how amazing this scene is going to be. Definitely my most anticipated scene this year.
PornstarsLikeItBig Gina Lynn and Jenna Presley Picture Gallery