Pornstars Like It Big presents: Two busty sluts get pounded hardcore
Scene Title: Quantum Of Sluts
Storyline: Secret Agent Keiran Lee has only one thing on his mind... Avenge the death of his father Ben English by punishing the cock-hungry pornstars who got him. He'll have to interrupt a deal and kidnap Shyla to get all the info he needs to succeed...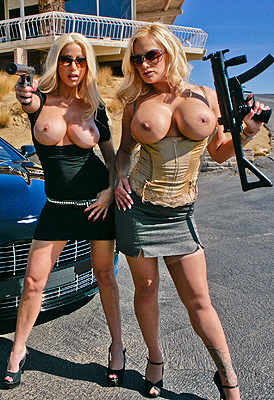 Pornstars Like It Big Shyla Stylez Gina Lynn Video Trailer
What people are saying about: Shyla Stylez Gina Lynn - Quantum Of Sluts pornstarslikeitbig scene
Comment #1
Short but sweet pornstars like it big scene. Both ladies were good and Keiran Lee performed to his usual high standards but i want Ben English for all the james bond style spoofs. Keiran lacks Ben's charm and sophistication needed for this particular rol
Comment #2
These girls should act together more often! They rock!
Comment #3
Wow, you guys are really pulling out all the stops - renting out Porsches, Maseratis and now helicopters? haha nice. As a couple of members have said, the sex was disappointing to a degree because it was so short, plus the limited ablility to fuck on a helicopter. That aside, this is still Gina Lynn and Shyla Styles, so no way on God's green earth is the a bad scene by any means. Finally got to see some cowgirl from that sculpture of an ass of Gina. So what REALLY happened to Ben English?
Comment #4
Sorry to see Ben English not be part of the Bond spoofs. If he was Sean Avery, he would tell Keiran you just got his sloppy seconds. That has nothing to do with Gina nor Shyla for the clueless. I guess the story was about avenging "his father's" death. Any way Shyla in that top was too hot to handle. She looked sexy in the stockings too. So glad that Gina was in cowgirl too. No way should that ass not be shown from a perfect view. Even though the positions were limited, I still thought all did a super job. You guys spared no expense when it came to this scene either. Renting a helicopter and some pretty nice whips. Hey Keiran you are gonna have to use the word bitch though. Ben always used it with class. Snoogans!
Comment #5
two of the best at the same time. AWESOME!!
PornstarsLikeItBig Shyla Stylez Gina Lynn Picture Gallery