Pornstars Like It Big presents: Four sexy pornstars competing in a game of football for a hard dick
Scene Title: Pornstar football!!
Storyline: It's a pornstar football game and we have four of the HOTTEST BIG COCK CRAVING young pornstars out there competing!! Rachel and Mikayla on the white team and Nikky and Roxy on the red team will have to do their very best in order to win the prize : Joe Blow's HUGE COCK!! You will love this game guaranteed. Enjoy!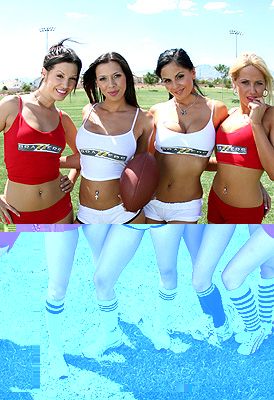 Pornstars Like It Big Roxy Deville, Rachel Starr and Mikayla Video Trailer
What people are saying about: Roxy Deville, Rachel Starr and Mikayla - Pornstar football!! pornstarslikeitbig scene
Comment #1
I loved this shot. there was a lot of ass licking and that shit is cool. I think the red team was a lil weak on looks though. More tits. I say do another scene like this but this time use Shyla Styles, Gianna Michaels, Carmella Bing and Rachel Roxx. Damm I think I just came my pants thinking about it
Comment #2
This scene was good. I think that it should have been Rachel and Roxy only. I am a huge Rachel fan and i love Roxy. I think this was good though. Good work Rachel. I'm glad Rachel got most of the cock time.
Comment #3
I like the four girls on one guy action. Adding another guy to the scene would ruin the fantasy for me. The only thing missing in this scene is reverse cowgirl. Scenes never seem complete to me unless there is some reverse cowgirl. Otherwise, great stuff!
Comment #4
White team has more experience but I did like the red team spirit. Nikky & Roxy really loved Joe and his big cock. Rachel who is the 'Starr' Of this video has the best ass in the business. I agree should have been more cock in this scene. Snoogans!
Comment #5
Joe Blow is starting to get on my nerves. What's with the aviators permamently attached to his face recently? And the whistle-blowing was very obnoxious. There definitely was need for another guy in there, he couldn't hack it by himself. The girls however were awesome. We all know about Rachel, and it's great to see Mikayla back cuz she's gorgeous. I would like to see more of team red too, both of em were sexaaayyy .
PornstarsLikeItBig Roxy Deville, Rachel Starr and Mikayla Picture Gallery