Pornstars Like It Big presents: Rebecca Linares gets a surprise big dick on her face
Scene Title: Big Dick Surprise
Storyline: Well it was Rebecca's birthday and we wanted to get her something nice, first we thought jewelry , then a puppy and then we said fuck it , a BIG DICK. So we invited Joe Blow over and blindfolded her. As soon as she realized it was a dick , she couldn't stop sucking it and fucking it.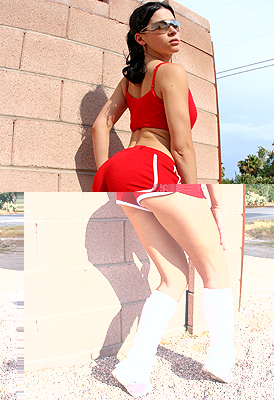 Pornstars Like It Big Rebecca Linares Picture Gallery
What people are saying about: Rebecca Linares - Big Dick Surprise pornstarslikeitbig scene
Comment #1
you guys honestly need to get these two together again. best fucking scene on the site. period.
Comment #2
This is what i am talkin about! Awesome OTOT from this little hottie. Nice and wet and rides a mean dick! totally what this site needs. Great riding, with a flexible little slut with a wet pussy> me fuckin gusta!
Comment #3
I was expecting not many to like this as Rebecca isn't exactly part of the mainstream of talent on this site. However i'd say it's her best scene on here so far. She can fuck but i'll be very surprised if she ever pulls off a scene everyone loves.
Comment #4
First off, Rebecca is nothing spectacular. She has a nice body, but it's a bit too skinny for me. Hated her accent, it was so fucking annoying, I wasn't sure if I'd be able to get through the whole scene. At first I thought she didn't enjoy the smacking from Joe, but her smacking him back made the scene more enjoyable. It gave the scene better chemistry between the two. However, she's just not my type, her ass was small, even for her size, in my opinion, but it was nice and round. I expected better, but this weeks updates all look shitty, so I'm waiting to see if 2008 picks up the slack for this week. 6/10
Comment #5
Better, much better. Love her little laugh at the end.