Pornstars Like It Big presents: Carmella and Rachel fuck the biggest dick in the biz
Scene Title: For your breasts only
Storyline: Secret Agent Double 0 English is back. This time, he is sent to protect the Duchess Carmella Bing at one of her receptions. She has been the target of an unknown assassin, and English believes a traitor is amongst her organization. Little does he know that the whole plan is set against him. Before he knows it, he is held by the Duchess Carmella and the Assassin Rachel Starr for his big cock. Ben English will do all in his power to get out of the situation alive.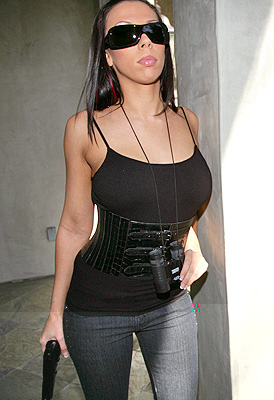 Pornstars Like It Big Rachel Starr and Carmella Bing Video Trailer
What people are saying about: Rachel Starr and Carmella Bing - For your breasts only pornstarslikeitbig scene
Comment #1
From mtviejo, I like the 007 theme performed in this threesome, it was awesome.Rachel has a star ass,very nice! The ladies performed very well in this threesome along with the prepped out customes.Ben E. fucked the women grreat! An equisitive threesome!!!
Comment #2
Rachel looks fantastic as ever here. I particularly love the boots - lets have more please! Its a massive shame if the fact that she's giving up working with guys on camera means we won't see her on Brazzers anymore. How about launching a girl/girl site so we can see more of her!
Comment #3
Love the 007 series with big Ben. Like or hate him, Ben has a long dick, delivers outstanding cum shot baths, fucks at a fast pace (has those tits rocking), and has an outstanding body. I think we can all agree his face has never been the best thing but when you have a slide that big (dick) and can cum like him it's no wonder girls having been licking his cock clean for years. It's sad this is the last we will see of Rachel for a while. Carmella love those big tits bouncing and Rachel love that ass. It wasn't until the doggy scene until these two girls connected with each other (pussy eating, sucking dick between positions, etc.). I agree with others that holding a gun and watching the other girl fuck doesn't work (they need to stay involved while Ben fucks them). Carmella you looked a little dazed during the facial and in your younger days you would be fighting the other girl to lick that dick clean. You looked uncomfortable with the cumshot and let Rachel provide most of the cleanup. Carmella when are we going to see an anal threesome out of you with Ben or some other guy? You have let Ben rock that ass (anal) before in another movie and provided a hot threesome with him. Still a great scene and keep this series rolling Brazzers!!!
Comment #4
Another lame move spoof. The pornstars like it big sex was decent. The two girls worked fairly good with each other. I don't see what the big fuss is about Rachel not doing b/g scenes anymore. Bottom line: it wont last long, she wont have much work if she only does solo or g/g scenes. She'll be back, but when she comes back, she won't get my attention anymore. She's lost my respect. Overall, the scene was decent, but the scenario sucked. Carmella's hairstyle was ugly in this scene, but it fit the role she was playing. Rachel seemed out of place for a scene like this, but oh well. 7/10.
Comment #5
The setup was cool with the double cross and all. Carmella had the correct look for the role. It was almost like giving props to Sean Connery era. It was disappointing knowing this might be the last time I see Rachel on Brazzers. English always fucks these chick like "The World Is Not Enough". I wish I knew when this was shot because Carmella looks like she is playing the part of Fat Bitch the sister of Fat Bastard. In her "Caught at Work" scene, she looked fabulous. I have to say the sex wasn't good either. It can't be good anytime a chick is sitting off to the side not doing shit but holding a gun. The title is called "For your breasts only" and I want to know where was the load to those sweater puppies. This scene could have been better but I think it was rushed. Unlike most I enjoy the spoofs. They have been doing it for years in the porn industry. Unfortunately 1 dried up puss, Snoogans!
PornstarsLikeItBig Rachel Starr and Carmella Bing Picture Gallery