Pornstars Like It Big presents: Jenaveve and Rachel both get the big dick they ever wanted
Scene Title: Cock of Love
Storyline: It's the Grand Finale of "Cock of Love" and it's down to the final 3: Jenaveve Jolie, Rachel RoXXX and Austin Kincaid. Evan will have to choose who wins the last Big Cock of Love. It's a pretty tight competition and each girl will do whatever it takes to prove she can take home the big cock!!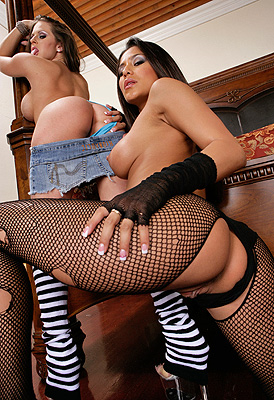 Pornstars Like It Big Rachel RoXXX and Jenaveve Jolie Video Trailer
What people are saying about: Rachel RoXXX and Jenaveve Jolie - Cock of Love pornstarslikeitbig scene
Comment #1
This scene was fun, i love jenaveve. She was awesome to work with!!!! Evan was fun too he is such a cool person. =) Stank u and goodnight....lol
Comment #2
loved it! Jenaveve has a near perfect body. Rachel Roxx um... rocks. this one was funny and sexy. Only one thing wrong, no sex with Austin but I understand why that didn't happen. It would have killed the story. They should do a scene with Austin Kincaid and Candy Mason as drunks at last call. Milfs with beer goggles on.
Comment #3
I gotta agree with the other members that praise this one - classic. The whole setup and production spoofing the TV show was spot-on. Evan "it's one thing to have a girl puke on you when she's sucking your cock, it's another thing to have a girl just walk up and puke on you". lmao that was one of the funniest things I had ever heard. And the wardrobe? Holy shit this was some of the best outfits I have ever seen in a porn. That necklace/waistband thing Jenavieve had on at the pool, the arm warmers both girls rocked at one point, and that ensemble Rachel had on for the sex...unreal. Austin did a good job as an extra. Then the sex was just straight fiyaaa, all the way through. Don't get the hate on Evan - top performer for years, and the girls seem to enjoy working with him. Easily a 10 - great job ZZ
Comment #4
The Cock of Love is the shit. It's good to know you have cool chicks like Austin Kincaid that don't mind to help out on set. Not as good as Dylan but she got the job done playing the drunk. Probably could have got any two chicks to play the others but I'm damn sure glad that RoXXX was one of them. No brainer for Evan Stone being the rocker. I really don't think a scene will top this one the rest of the week. Jenaveve makes her second appearance on a reality spoof. Once I saw the piledriver and JJ eating pussy, I knew that couldn't be topped. Well if RoXXX didn't toss salad while JJ was getting piledrived. Evan was the puppet master pulling the strings to make this scene hot. He can get hated on for his age but no hating the vision for making this pornstars like it big scene hot. Snoogans!
Comment #5
Bitto, you took the words right off my keyboard. Just like you, I'm not one to post; I just do my business and get out. But this has to be one of the greatest scenes I've ever witnessed. The campy acting, the intense fucking, Evan Stone being an animal, the phenomenal Jenaveve Jolie, and the extraordinary Rachel Roxxx...my mind and load have been blown, repeatedly. Thank you, thank you, thank you Brazzers. This is one I will certainly be revisiting...
PornstarsLikeItBig Rachel RoXXX and Jenaveve Jolie Picture Gallery