Pornstars Like It Big presents: Julia and Nikki succomb to big cock temptations
Scene Title: The Pornstar Experiment
Storyline: Two Pornstars. One House. 24 Hour Surveillance... Julia & Nikki are competing to see who can last the longest without a cock and take home $30'000!!! Who will snap first???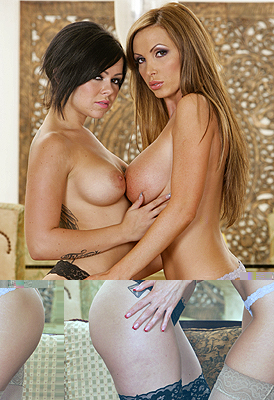 Pornstars Like It Big Nikki Benz and Julia Bond Video Trailer
What people are saying about: Nikki Benz and Julia Bond - The Pornstar Experiment pornstarslikeitbig scene
Comment #1
Long setup, but I can watch Nikki eat breakfast, so I was able to dig it. I'm not so much into Julia. She's really cute, but I don't know what it is, could be the tats. When the fucking started, and Nikki hopped on for that rgc, that was it for me, she was her phenominal self here and defiinitely dominated of the 2. As Blane said below me, props to Nikki for keeping the majority of her skin ink-free.
Comment #2
Nikki Benz totally ruled this pornstars like it big scene,but the other chick was good too but i'll have to admit during some of the scenes I tried to read what some of her tattoo's said.
Comment #3
This was a hot scene. I have to admit that I don't recommend that porn girls get as many tattoos as Julia has and I prefer Nikki as a blond, but neither of those things deterred me from having a good time watching this one. I would have liked to see some reverse cowgirl from Julia since Nikki's was so good, but oh well.
Comment #4
This scene would have been great for DA. Would have never of thought to see this combo of Julia and Nikki together. The story ran somewhat long but it was done with style. Glad to finally see some chicks in jeans too. Mason, Julia, and Nikki were all looking hot as fuck. I have to honest and keep it real, Nikki out fucked Julia something fierce. Her reverse cowgirl and that doggy was incredible. They both took a good pounding in spooning. Was that close up on Julia's asshole telling us about a future scene? Another solid scene ZZ. Snoogans!
Comment #5
I like Nikki. LOOOOVE Julia.
PornstarsLikeItBig Nikki Benz and Julia Bond Picture Gallery