Pornstars Like It Big presents: Pornstar picked off the streets to fuck a hard cock
Scene Title: Cruising Around Porn Valley
Storyline: Joe and Bobby are riding around Porn Valley and are hungry for some pussy. They think of a plan to bullshit pornstars by making them think they have their own porn agency called 'Mo Money Talent' so they could fuck them. They end up bumping into the sexy Mikayla at a hair salon, but she is not interested in what their pitching her. Bobby quickly thinks of a plan B and mentions Joe's ten inch cock, which Mikayla is very interested in. However, she is a smart business women because she decides to test the merchandise before going anywhere with them.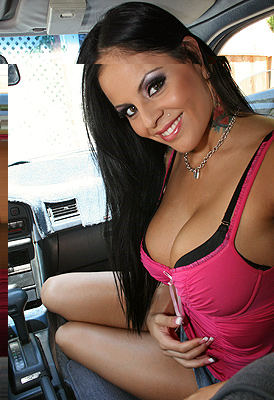 Pornstars Like It Big Mikayla Video Trailer
What people are saying about: Mikayla - Cruising Around Porn Valley pornstarslikeitbig scene
Comment #1
Boy...those smacks was pleasing to my ears!!!
Comment #2
makayla is the best yall need more more more
Comment #3
My man Johnny Knoxville is back. Joe Blow picking up pornstars again in this vault scene. Is Joe bad luck to us? This makes his third one of these type scenes. Bree Olsen is contract girl. Eva Angelina got pregnant (not by him). Mikayla also being a contract girl too. I'm feeling rather cheated. Anyway he fucked her real damn good. I like that the room was kinda empty cause those smacks were hot. The sex was pretty good. Nothing that really stood out. Glad Bobby went to BangBros though. I bet his voice doesn't match his body. I was so hoping for a better facial. Snoogans!
Comment #4
please more of Mikayla god her leggs and ass dont stop i love when she keep the spikes heels on in the scenes that fuckin hot god i love to get a chance to fuck her myself but that never happin lol but i ty to her for such a great scene god ever time i see her she makes my day but please brazzers give me more more more of Mikayla
Comment #5
It's about damn time they brought her back!!!!!!!
PornstarsLikeItBig Mikayla Picture Gallery