Pornstars Like It Big presents: Three busty pornstar goddesses fucking double O English big fat cock
Scene Title: Licence to fill
Storyline: The Evil Porn Sisters Audrey Bitoni, Eva Angelina and Mikayla and their hunger for big cock are spreading fear in the Adult entertainment industry. This looks like a mission for secret agent Ben English to take on. He will use his legendary 10 inch cock to stop them and put a load all over these three horny pornstars' mouths and faces.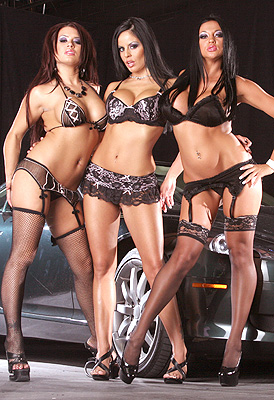 Pornstars Like It Big Mikayla, Eva Angelina and Audrey Bitoni Picture Gallery
What people are saying about: Mikayla, Eva Angelina and Audrey Bitoni - Licence to fill pornstarslikeitbig scene
Comment #1
please, please, don't mess up the beauty ladies with a rude English guy, I like all 3 girls but u mees up with the scene with the homosexual looking guy,,,, it affect the entire scene, especially the representative of the beauty Audrey bitoni, she needs to be treated only by soft ladies in lesbo scenes, I believe she is not for banging action, she is a super model representing females, pleae take that in consideration when you do scenes wit her.
Comment #2
Why is it whenever there's a threesome of fouresome, the girls just jek the guy into orgasm. Why can't they all 3 lick him at once when he's shooting?
Comment #3
Good pornstars like it big idea for a scene, almost hard to go wrong with three mega-babes like these. It's nice to see something different, especially a movie spoof. I'm not usually the biggest fan of these 3 on 1 scenes...mainly because the girls never get a proper & equal fucking. Like one person said, only doggy for one girl, maybe 2 positions for another and some boring mish. The blow job was great, but if you guys keep doing these types of scenes, maybe try to get a little bit more creative with the positions and camera angles. 2 guys would definitely make it easier to cover a variety of positions. I hate when you have 3 big titty babes in a scene like this and NONE of them get their juggs fucked. FUCK THOSE TITS : ) The girls were amazingly hot, though. Mikayla is SOOOO fucking sexy, Eva is a goddess and Audrey, while I find her the least attractive of the three, is still one smokin' hot cocksucker. And I agree with the person who was defending Ben, that dude is one of the better guys, he always pounds the shit outta these girls and covers them with his sprinkler-like cum shots. I'd like to see more movie spoofs. This was a lot of fun. Maybe you could do a mutant horror type spoof where the guy's crotch gets covered in some radioactive goo which then causes his johnson to mutate. Perfect for Pornstars Like It Big : )
Comment #4
First off, this was the dumbest scenario for a scene I've ever seen. You had a good idea with the cast of girls, but thats about it. The sex could have been better, and I would have replaced Audrey with someone else. It also seemed like Mikayla was the outcast in this scene, Audrey and Eva were always laughing together and Mikayla was kinda left on her own. I just couldn't get into Audrey's scarred up tits, but it was a decent scene. I think I loved Mikayla and Eva Angeline, they were so fuckin hot. 8/10
Comment #5
Excellent concept; I kinda like porn that bites from real movies. And the 3 girls are probably 3 of the hottest brunettes in the biz, wow. I love Audrey's new jugs minus the scars, I'm glad you guys are showing more of Mikayla after her long hiatus from the network, and anything with Eva NEVER disappoints. I don't know why everyone's hatin on Ben English; he's one of the better male talents that Brazzer's uses and he fucked the snot out of all 3 of them here. I DO agree that when you guys use 3 females, it would definitely be better with 2 males. Finally, it was great to see a different stage other than the 3 or 4 rooms in that house that you guys always use haha....great scene, one of the best on the entire network.