Pornstars Like It Big presents: Memphis Monroe is the cock hungry Sperminator
Scene Title: Sperminator
Storyline: Memphis Monroe is the Sperminator, a big cock hungry machine sent through time to protect the biggest cock of all: Keiran Lee Connor. As she roams through the streets of Modern Day America, her objective is to find Keiran's cock and fuck it before it's too late for mankind.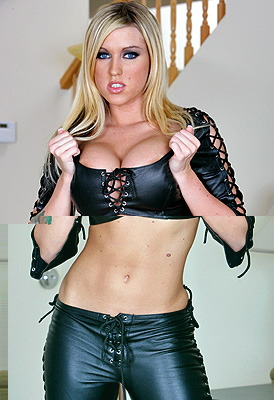 Pornstars Like It Big Memphis Monroe Video Trailer
What people are saying about: Memphis Monroe - Sperminator pornstarslikeitbig scene
Comment #1
No doubt about it; Memphis is one of the greatest pornstar is this site;however, I definetely agree she should open up that beautiful mounth of hers and take the whole load or at least part of it, which make her scenes even hotter. She's got a super wonderful ass and those boobs are really worth to die for. More Memphis Monroe scenes please!
Comment #2
You know what would be a great Sperminator 2 or 3,it starts out that Keiran Lee Connor friends come over to play a joke on him to hypnotized him to come to a bachelor's party,but keiran is not there and they hypnotized the Sperminator instead and somthing goes wrong with her programing and hypnotized her to be a stripper and she has that same leather outfit and she goes with them to the party and she entertains the one main bachelor and after she strips and dance for him and she's competelty naked for him she exames him and wants to protect his big cock other than connors,so she says to him "I must have that big cock" and the guy goes ok and she take him upstairs to the bedroom and she says to him "this a night that you never forget".They go down on each other and then they fuck missionary stlye and then cowgirl and then you see the camera pans in front to see memphis rides him cowgirl,reverse cowgirl and then dogystyle and then standing doggystyle and than back to cowgirl.After the cumshot,she wakes up in bed by herself and wonders what happend to her,maybe just a glick and she needs to go and see if connors ok.Thats jusy my idea,kind of sci fi comedy skit,something hopfefully they might use in the future.
Comment #3
Seriously! You guys have to stop with the movie spoofs. Each one you've done has sucked major ass. The editing was good in this scene, but once the sex starts the scenario doesn't stick with it like it does in other scenes. Memphis is pretty, she's be better without the moles, but she's still decent. Overall, it was average. 6/10.
Comment #4
Porn is another form of entertainment, and this was truly entertaining. The editing and production was excellent here. I know you guys don't have the budget of a major Hollywood studio but the setup was damn good considering. The sex was mad hot, you can tell Keiran & Memphis enjoy working together, fucking all over the floor and barely using the couch. Plus, what was that position they were doing when they were both on one knee with her leg out? I think I'm gonna try that this weekend, lol. However, I agree with the other members - the "Sperminator" has gotta open up that mouth for the $$ shot.
Comment #5
Cool idea, sexier than the real movie(unless you are into Arnold a little too much). Memphis looked hot...naked...well any hot girl does...whatever the point is that the scene was good, there is even a guitar hero moment there. Memphis and Keiran did a better job this time than the last scene they did together. Memphis is a very solid performer, is always a treat when she does a reverse cowgirl which she does here, the action was good, hope we can see a sequel, maybe another "sperminator"(I blush even writing that), It could be a threesome, that would be cool. Nice scene all around.
PornstarsLikeItBig Memphis Monroe Picture Gallery