Pornstars Like It Big presents: Melissa spies on her neighbours hard cock and fucks him
Scene Title: Voulez - vous coucher avec moi?
Storyline: Melissa Lauren knows her neighbor has a big cock. She wants his cock and nothing is gonna stop her. Ramon was just napping by his pool when Melissa broke into his place and asked him to give her his big cock. This French goddess really knows how to ride a cock and she rode Ramon's like no tomorrow.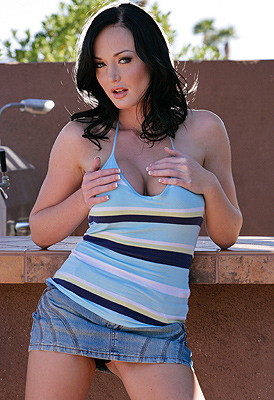 Pornstars Like It Big Melissa Lauren Video Trailer
What people are saying about: Melissa Lauren - Voulez - vous coucher avec moi? pornstarslikeitbig scene
Comment #1
So fuckin cute and extremely sexy! Two really sexy people who have chemistry. Much better than watching Felony and Ramon together. Loved there after glow!
Comment #2
Great scene - both Melissa and Ramon played off each other very well. I throughly enjoyed Ramon asking Melissa to say thing in French which she did in the heat of the sex. Thanks to both of them.
Comment #3
What a hot pornstars like it big scene. Even hotter is her saying "my name doesn't matter, and I don't even wanna know yours", wowww. She had no quams about getting in the water with her shorts on for the brain, and the head in the water was nice. Loving all the different positions they went at, and loving Melissa ride reverse cg. They did have some very nice chemistry, plus this was a good scene where Ramon wasn't babbling like Mumbles, even if it is from the vault. Nice job.
Comment #4
This very well should have been gonzo. It was almost like the Cherokee/B. Glide scene without the story. This could have been one of the best if not for the few shadows covering things up. Good reasons that I will watch this again. Melissa gives head with her skirt on in the pool. Loving the carefree of them both. Ramon laying in the pool while getting head was a nice change too. He went to the cradle style twice. Unfortunate the shadows were in the way for doggy. The chemistry was great cause she didn't like being teased. Of course the cowgirl was the shit. Too bad the camera wasn't closer got the cumshot. Snoogans!
Comment #5
Yes! More of Melissa :D
PornstarsLikeItBig Melissa Lauren Picture Gallery