Pornstars Like It Big presents: Horny Pornstar wants a giant cock to rip her insides
Scene Title: Luscious got game!!
Storyline: Agent Luscious Lopez was on a very important mission. She had to get Chris back into the big dick agency. She knew Chris loves basketball and, being a very good player herself, she challenged him to a 1-on-1 game. Chris didn't stand a chance and got his ass kicked. So Luscious took him and his BIG COCK to her place, and fucked the shit out of that cock like there was no tomorrow before sending him back to the agency.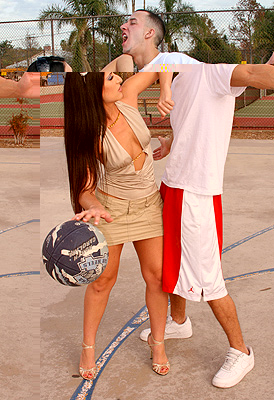 Pornstars Like It Big Luscious Lopez Video Trailer
What people are saying about: Luscious Lopez - Luscious got game!! pornstarslikeitbig scene
Comment #1
Lucious Lopez is one of the most beautifulest woman i have ever seen. she has a very pretty face. she has a very nice ass. she has a very dirty mouth like a woman should well getting fucked. i would love to just grab her buy the back of her head and shove my cock down her throat. then have her sit on my face and rub that tight pussy all over my face. while i eat her pussy raw. then id have her hop on my hard cock backwards. so i can see my cock sliding in and out of that tight pussy. and watch that big fat ass bounce up and down on my cock as i smack her ass. then just before i explode ibside her tight pussy i pull out and tell Lucious to stand on her knees while i deep throat her some more. telling her how beautiful she looks with my big cock in her mouth. she begs for me to drop a load in her mouth now. so i shove my cock down her throat harder and faster. then tell her to open that sexy mouth of hers as wide as she can and stick out that tounge. just before i give her my huge warm jizz. i slap her in the face and ask her what she loves most in this world. she replys a nice big load of warm jizz in her mouth and on her face. then i give her what she loves. and ask her to play with my cum in her mouth. lets some drip down your lip and chin as i wipe it back up with my cock head. then she swollows my jizz and dives mouth first for my cock again. makeing sure she got every drop of cum from my cock.
Comment #2
Lucious Lopez is one of my favourite porn actress because she have a beautifuckling Ass!. The guy in these scene have a long big cock. Its good acttingwork to say "Ooooooh you cock are so big I never hat this In my life. Watch Lucious in Butts & Blacks in the scene Get In Where Fits june 18 2007 when she take a big black cock this cock is more circumsized and long as the white guy in this scene and she enjoy the sex with this big black cock. I think this was the greatest cock in her life and not the guy in this scene.
Comment #3
i thought this pornstars like it big scene was hot hot hot, the only thing that would have made it hotter is if she was looking at the camera. i love the way she kept talking about how big his dick was
Comment #4
I have heard that guys think about baseball to keep them from cumming too fast. Chris must be thinking about the Stone Age through the Cold Age. I know he works for more than just Brazzers but damn. I still have to believe at his age he should be able to keep a hard on at least four times a day. A question went through the forum about how often one jerks off. Those answers blew my mind and these are average joes. Luscious looked great in her outfit. She also did everything possible to sell this scene from playing ball in heels to sucking him so he could get hard. Penelope Cruz never even worked that hard to proving Tom Cruise isn't gay. Snoogans!
Comment #5
This is one of the bests pornstars like it big scenes I've seen her do, yet for some reason I still can't get passed that nose (get a nose job please! lol)
PornstarsLikeItBig Luscious Lopez Picture Gallery