Pornstars Like It Big presents: Lacey Duvalle getting fucked hard on Independence Day
Scene Title: Independence Cock
Storyline: Happy Independence Day! It is the 4th of July and a bunch of pornstars are having a big barbeque to celebrate! Everyone is partying and drinking and having a really fun time. Eventually things got a little wild with the girls showing off their tits and asses. The craziest thing about the event was when Lacey Duvall noticed Ramon's bulge in his bathing suit and took him inside the house to fuck and suck his big cock!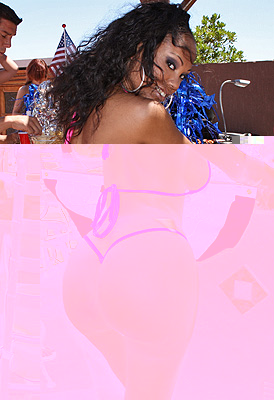 Pornstars Like It Big Lacey Duvalle Video Trailer
What people are saying about: Lacey Duvalle - Independence Cock pornstarslikeitbig scene
Comment #1
The setup was good and different, it was about as real as you can get with them talking about "working" with each other and how he had to "work" the next day. I loved Lacey in the past, but as another member mentioned, I think she had ass-work done or something because every other part of her body is fit-looking as it was in the past, and now she has this huge, and somewhat unattractive rear-end. Some good, hot fucking, especially the cowgirl with that rump jigglin like that. I still like Lacey, but she's lost some points with that trunk nowadays. Next time, tell Ramon he's in AMERICA and dudes don't wear banana-hammocks here in the U.S.
Comment #2
that was one fucking molten, blistering hot pornstars like it big scene. lacey and ramon are some major eye candy and anyone that did not like that scene does not enjoy porn!!! these two made a wonderful pairing and lacey deserves some major screen time (see my trailer comments earlier). lacey was scorching hot in cg, rcg, and doggy and she provided some nice p2m. lacey that is one nice ass and curvy body. ramon looks fucking sweet with sweat dripping off his hot abs and chisled body and that dick looks damn tasty. lacey that was a mad hot facial you took from ramon and you make all of us female fans jealou licking that hot cum off ramon. lacey it's so glad to see you back in action and i hope we see more of you & ramon performing together. brazzers, thank you for one of the hottest scenes ever and we need more of ramon and lacey!!!!! brazzers rocks!!!
Comment #3
I actually like how this was shot. Like it wasn't a scene but it really was. Just something different and fresh. It has been long overdue since Lacey has been on ZZ. I thought she got contracted by BB for as many scenes was coming out with her. I'm kinda of upset that Ramon didn't whip out the squirt claw on her. I would have loved to see her face taking that pleasure. She probably knew about it in advanced and asked for it not to be done. which is a shame in itself. Not a bad performance and the ass was banging right on point again. Snoogans!
Comment #4
great vid. we need some anal scenes with lacey that would be pretty nice. u people are ridiculous btw, most of the comments are some kind of stupid gripes about the video not playing. please reserve the comments area for comments regarding the video itself, not its inability to play.
Comment #5
This is a great pornstars like it big scene and finally Lacey got to fuck a guy with a big dick. Luckly, she got to screw Ramon because he is sooo hot.
PornstarsLikeItBig Lacey Duvalle Picture Gallery