Pornstars Like It Big presents: Pornstar Krissy Lynn wants big cock and big cock she shall receive
Scene Title: Do You Have What It Takes?
Storyline: Krissy Lynn is fed up of being casted for amateur sites where she is forced to fuck guys with small cocks. After walking off set she calls her agent asking to be casted in the Brazzers site Pornstars Like it Big. Instead of calling her up the Pornstars Like it Big recruiters kidnap her and set her up with Keiran Lee's big cock and make her dream finally come true.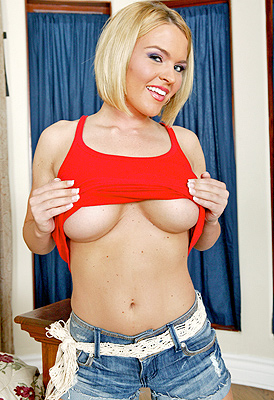 Pornstars Like It Big Krissy Lynn Video Trailer
What people are saying about: Krissy Lynn - Do You Have What It Takes? pornstarslikeitbig scene
Comment #1
I like a reality story every now and then. Damn you guys had her doing some serious plugging of ZZ. Keiran made sure the sex was very intense. I don;t mind seeing some deep dick penetration with a bang. I just hated the fact that he did quite abit of stop and go. A couple things that I liked about this. The shirt being stuffed in her mouth. Great creativity of putting her feet through the rope as he pounded her. Then the last thing was him on the ground and the rotation of three positions was hot. Jackie Daniels making another guest appearance. Snoogans!
Comment #2
Not Krissy's best work, probably the worst on zz for her! Nice slutty positions though, her spreading was great, and she can hit a high note at times! Dumb story for this too, Why didn't Jackie get involved, I might have like this more, just standing around made no sense. I WANT TO SEE THOSE TWO GOTH LESBIAN CHICKS, WITH THEIR CLOTHES OFF! 7 out of 10!
Comment #3
love krissy lynn this slut make me cum so hard she no how to be a good slut and give the people what they want love to see her fuck in high heels i also love when she does scene and looks at the men and says i dont even know you ty krissylynn u made me cum so fucking hard please more of krissy lynn
Comment #4
Nice pornstars like it big scene. She is super hot, just needs some ProActive or something. Little acne. The girl with the dark hair NEED to be in a scene!
Comment #5
Good girl, Krissy! Never settle for small dicks! You wanted big cock and you went out and got one! It's always inspiring to see a girl achieve her dreams. May all girls with this dream be as successful at making it cum true.
PornstarsLikeItBig Krissy Lynn Picture Gallery