Pornstars Like It Big presents: Jenny Hendrix wants big cock and does not take no for an answer
Scene Title: Just like the good old times.
Storyline: Director Brett Brando has been in the biz since porn got its dot-com status. Jenny knows it and so do we, so it isn't any surprise a year after leaving the business she is out of luck and in need of huge cocks to plough into her pussy. They say the average cock in porn grows half an inch bigger every year; Jenny needs that extra inch she missed, she finds Brett's number and calls him, Brett picks up the camera and Jenny picks up from...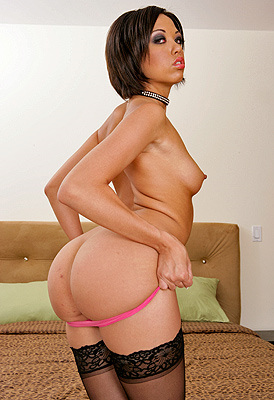 Pornstars Like It Big Jenny Hendrix Video Trailer
What people are saying about: Jenny Hendrix - Just like the good old times. pornstarslikeitbig scene
Comment #1
i just broke my wrist last night whe i was drunk. i've never used my left hand i my life and this video did it 4 me in 6 minutes. Brazzers is the fucking shit
Comment #2
Brazzers needs a whole lot more Jenny Hendrix scenes, this chick is so unbelievably HOT !!! and watching her ass swallow cock is one of the greatest experiences in porn... period! That being said, her most recent scene (Just Like The Good Old Times) was enjoyable... of course... it's Jenny after all... but having such a mind boggling ass in a scene, and then NOT fucking it till it's sore just seemed like a waste. Jenny's ass is just something else... I swear it should be made into a bronze statue or something... the term "prize winning" doesn't quite do justice in this case... and that is precisely why a monumental ass such as Jenny's should be used to the fullest extent when she is selected for a scene. Not fucking the crap outta her ass is like... like... buying a corvette and only using it to go do the laundry... doesn't make much sense right ?
Comment #3
Love me some JH. I'm not liking this hairstyle on her, liked her better with the long blonde, but this was still another great pornstars like it big scene from her. BB "you got the wrong guy, u know I'm hung like a cocktail weenie", haha hilarious. The story was what it was, but Hendrix was on-point. with the dick sucking, fucking (both rcg and cg were tops with her rump bouncing the way she does), and her vocals are great too. Let's not forget, she might have one of the prettiest 2 or 3 pussies in porn, in my opinion.
Comment #4
Mannn..this girl is fuckin hot,her assss burn like a flame...i wanna see more about her..Jenny..ahhhhh..juicy girl!!!
Comment #5
I do believe that is Mr. Fame that gets dissed by Jenny at the start. Hey Kory at least you got head from Lacey ;). So that's about how many are on set when filming huh? I loved this scenario over the Gina Lynn scene. I like seeing a BTS every now and then type scene. Thanks Johnny for taking the average mish to another level. As for the cowgirl action, was so fucking money. Jenny not only put on a show with the ass bounce but rode that cock too. I know some are getting tired of facial but that was one wasted cumshot. She was going to drown if that was a facial. Another good pornstars like it big scene brazzers Snoogans!
PornstarsLikeItBig Jenny Hendrix Picture Gallery