Pornstars Like It Big presents: Jenna Haze steals a big cock away from her best friend
Scene Title: Fuckin' with Jenna
Storyline: Jenna's roommate is her BFF, but she is somewhat of a childish prankster. Jenna is a good sport until her roommate deprives her of some big cock. Now the gloves are off and pay back is a bitch!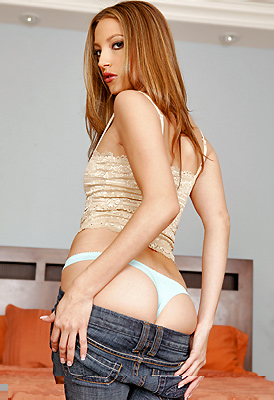 Pornstars Like It Big Jenna Haze Video Trailer
What people are saying about: Jenna Haze - Fuckin' with Jenna pornstarslikeitbig scene
Comment #1
Holy crap there has to be a sequiel Jenna is the most sensual girl ever and a 3-some would be amazing!
Comment #2
The prank story is not even worth mentioning when two people fuck like this. Since his first scene and her year long return these two put on a good show then. This time it' hard to put into words that I haven't already used before. He's not fucked anyone like he fucked her in this scene. He was going balls deep with every stroke. She was wiggling and jiggling to make the act complete. I knew this was gonna be intense when she didn't get her jeans off at first. I loved every position obviously the cowgirl and doggy for the exchanging of control. The mish was better than usually because of his push up force he was fucking her with. It's funny cause the only mess on her face was the feathers. She's so money that she swallowed it twice. Snoogans!
Comment #3
What did we learn? Damn Jenna is hot & sexy as fuck! Brazzers you need to learn that "If you can lick it, you can dick it". More anal please, especially with a hot piece of ass like Jenna. This would definitely be a 10.
Comment #4
Finally the MP4 is at 29.97fps and it looks fucking great, smooth and crisp; not sure whether the source was cleaner or more effort was put into squeezing more out of H264, but even though same bitrate as previously is used to encode more frames and pixels (8% more compared to previous FS resolution) there is a visible quality improvement. Good to know I won't have to dl the 720/1080p versions =)
Comment #5
One of the hottest girls in porn... MORE PLEASE
PornstarsLikeItBig Jenna Haze Picture Gallery