Pornstars Like It Big presents: Jenna and Roxy create big cock a la Porn Science
Scene Title: Porn Science 2
Storyline: Jenna convinces her nerdy friend Roxy to try to build a clone of Scott Nails. This, of course, is to take advantage of Nails' big attributes... The girls had heard that two guys from Vegas had built a pornstar with their supercomputer so they'll try the same thing, just to get that big cock they so deeply crave!!!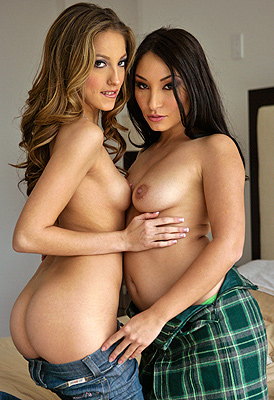 Pornstars Like It Big Jenna Haze and Roxy Jezel Video Trailer
What people are saying about: Jenna Haze and Roxy Jezel - Porn Science 2 pornstarslikeitbig scene
Comment #1
My favorite pornstars like it big scene this year so far and looks like it will be hard to top. Jenna, as always, was hott as fuck! She looked incredible in the beginning. Watching this reminded me that she also always delivers in her role as well as her fucking. Scott was scorching- loved when he "appeared". Nice to see two girls who are actually into each other for once as well. Definitely a 10!
Comment #2
Great performance by Jenna Haze in this scene. She is very sexy and fucks so hard! I've much liked the final when the girls have jerked Nails cock with three hands untill he's cummed. Awesome pornstars like it big scene!!
Comment #3
Jenna Haze is such a professional. She is by far the best in the business, sexy and successfull! I am truly jealous of any guy who has been with or is with her now. Oh and i'm excited for porn science 3 with anal!
Comment #4
Very cool that we got a reversal of parody. I did think the lead up to the sex was quite long. Jenna was too hot and sexy at the start. It wouldn't have bothered me if she left that on. What an ass Jenna has too. I was hoping for more of that triangle effect when everyone is getting some action. It happen every now and then but not often enough for me. However I did get two cowgirl session from each chick. Jenna was riding that cock like a snowmobile doing a slalom. Scott was his usual extreme strokin self. Even a hint of a part three with Keiran Lee. Snoogans!
Comment #5
this looks like it is well produced, directed, and has some good acting. This scenes should not disappoint. just my $0.02.
PornstarsLikeItBig Jenna Haze and Roxy Jezel Picture Gallery