Pornstars Like It Big presents: Harmony Rose wins a big dick as her prize for a KO
Scene Title: Big Blow!
Storyline: Ex boxer Joe was making fun of Harmony for being a female instructor in an all male gym. He would just keep cracking the lamest sexists jokes. Harmony was fed up with this prick so she challenged him to a quick boxing match to shut him up. The condition of the match was that if she won she would get to fuck his huge cock!! Joe proved to be no match for the sexy instructor and Harmony wasted no time collecting her BIG winnings!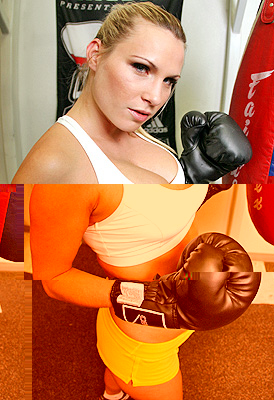 Pornstars Like It Big Harmony Rose Picture Gallery
What people are saying about: Harmony Rose - Big Blow! pornstarslikeitbig scene
Comment #1
This guy Joe is the biggest geek I have ever seen. Harmony was totally into the scene and it's like the guy felt nothing. Sort of unrealistic to have a hard on when you walk into a gym. More of her please and maybe you can have a scene with her and Phoenix Marie? Get rid of Joe he is always acting stupid.
Comment #2
I didn't think the pornstars like it big scene was bad. Joe is always acting stupid. Harmony has nice small natural boobs. I was hoping the anal would be a little better. Joe has some soft issues at that time. I like the ending because she didn't go into her camera stare. She just kept sucking that huge cock. Snoogans!
Comment #3
I agree. I just got around to watching this one and Harmony was fucking awesome. I'm not a fan of Joe but the girl was so good in this I was able to ignore him. Bring her back!
Comment #4
Kind of weird that both sites thought of using Harmony Rose in a similar scenario, but I thought they both were good. I have to admit, it was funny seeing Joe play the part of a boxer in this scene, and I really laughed when he walked through the door in that outfit. But I think your scene was good because they had better chemistry than Naughty America's scene, and she was paired with a guy that was big enough to satisfy her. I liked the fact that Naughty America used the ropes numerous times in their scene and it made it much hotter. If Joe and Harmony did that in this scene, it'd be much better, but I still give it an 8/10.
Comment #5
Hot ass scene.Deserves far better than its rated. I think joe is a hilarious jackass! Besides any dude with a normal build that tears up the pussy and ass like that motherfucker deserves some credit. How many of the haters in here are swingin that much meat (none or they would be applying for his job am I wrong?)Harmony rocks. She's so fuckin PSF it isnt even funny. The sex looked 100% legit even if the staging was wack. Seriously tho? How many different scenarios can you come up with to get 2+ people to get together to fuck that don't come off a little wack after how many hundred scenes? Hire me to write this shit and it's on! Hell I work cheap.