Pornstars Like It Big presents: Gina Lynn is a high priced pornstar who wants only big cocks to fuck
Scene Title: On Set with Gina Lynn
Storyline: Today we go behind the scenes with the ever beautiful Gina Lynn. She looked absolute fantastic and this promised to be a great scene! One problem arose though, Gina was not feeling the male talent today. His dick was too small for her liking. She then notices the Boom Guy or his package rather and demanded that he work with her in the scene! Of course he obliged, who would turn down Gina Lynn? It turned out to be a hot scene and we caught everything on tape!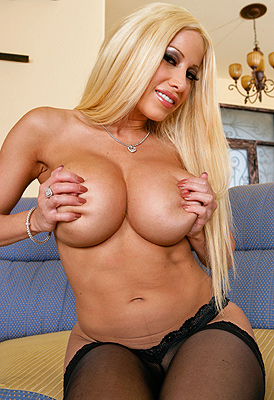 Pornstars Like It Big Gina Lynn Video Trailer
What people are saying about: Gina Lynn - On Set with Gina Lynn pornstarslikeitbig scene
Comment #1
Great sene idea, and it was done to excellently; camerawork, set, acting, direction...not saying like I know waht goes on for real but I can tell when a production is done well, and this was good. KF gettin all up in the recent scenes, playing himself, good stuff. Whether this cat from BB has a big dick or not, Gina totally seemed to get into it and that's what it's about. She's so damn hot, and she has prolly the most underrated curves in the game. Love watching this chick. But the overall "behind the scene" scenario was a great idea that was done well, great job, and please, always more Gina Lynn...and havve her in more "ass" positions plz
Comment #2
Ok so Gina Lynn is probably one of my top five so I gotta be a little harsh on this pornstars like it big scene. First off please don't ever do a scene with Gina and not have a cow girl position....ok I understand this dude's dick could not fit in that sweet ass long enough to get a good cow shot because it keep coming out. Which brings me to my second point, Gina has fucked Lexington Steel so hearing her say "oh you have a big dick" and "fill me up" to this guy, kinda killed it. Gina Lynn is top notch so put her back with Johnny Sins....reference "Gina fights for Johnny's Cock", this is how she wants to fuck.
Comment #3
I've kinda seen a scene like this before with Gina. It was with Johnny Sins and she was on the phone arguing with someone about wanting a big cock. So I wasn't impressed at all with the scenario. I still don't Mr Pete has a big cock either. He is smaller than that Manu guy that we all complained about. At least she was more into than she was with Cheyne. Snoogans!
Comment #4
They should file this scenes under "Pornstars Like It Small and Soft." It is laughable how he couldn't get it up hard for the 1st half of the scene when someone as hot as Gina Lynn is sucking on his pencil dick. Too funny! You could tell even Gina Lynn had a tough time pretending he had a big dick. What a waste!
Comment #5
Gina looks incredibly hot w/ those stockings, would be much better if she swallowed cum too. either way she's incredible
PornstarsLikeItBig Gina Lynn Picture Gallery