Pornstars Like It Big presents: Secretary of State Cruz getting fucked hard by her captor
Scene Title: Giving up the Goods!
Storyline: The terrorists have taken revenge on Brazzers and has kidnapped one of their talent, Cassandra Cruz! Cassandra refuses to give up any information on Brazzers!So they decide to send something special to Brazzers, a tape of the terrorist fucking Cassandra hard!!!She remained professional and took a big one for the team!!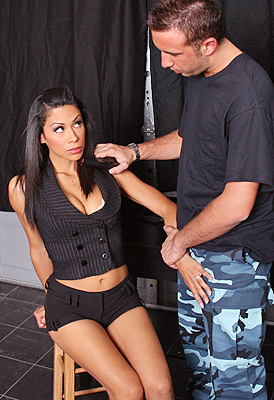 Pornstars Like It Big Cassandra Cruz Video Trailer
What people are saying about: Cassandra Cruz - Giving up the Goods! pornstarslikeitbig scene
Comment #1
This scene is very good but it could have been GREAT! Cassandra is super hot and the idea is very exciting. But I think it would have been way better is Cassandra was resisting at first. I mean, she's going to get fucked by a terrorist, she's not supposed to be so happy about it right away. She should try to escape then love it 'cause it's great sex! Her being tied up (at least at the beginning) would have made sense too and it would have been even more exciting. Just my 2cents!
Comment #2
I guess there must have been a ton of editing done with this scene cuz from what KL said on the forum completely contrasted with what I saw here. Cassandra choked on that dick lovely. And she looked like she enjoyed all the fucking, especially the cowgirl. Guess they must've had some issues how he bust in here e.y.e. At least he was nice enough to try to clean it.
Comment #3
Now this was a pretty kick ass pornstars like it big scene. I liked the story the beginning could have been better executed by the two dudes. Keiran gave her the onion cock the way tears came out her eyes. That doggy had me thinking of when he was firing on Robyn Truelove. Basically saying he was relentless and on fire. Of course without a second thought the cowgirl was buckwild. I can tell quite abit of editing was done. Cassandra still took that long cock like a champ. She might have fought Keiran a few times but I thought she gave a solid effort. That's why we don't see behind the scenes either. I still liked the scene way better than the other two today. Snoogans!
Comment #4
she got some ass that got fucked od fast n hard
Comment #5
nice just get her some fun bags soon on her chest
PornstarsLikeItBig Cassandra Cruz Picture Gallery