Pornstars Like It Big presents: Carmel Moore is a naughty angel in search for big dick
Scene Title: The Problem With Angels
Storyline: The Dark Angel descends to Earth to find herself some big cock for her tight ass... Her sister the White Angel leaves her heavenly habitat so find her rebel sibling but it's too late... Dark Angel found Tony DiSergio who fucked the shit out of her divine ass!!!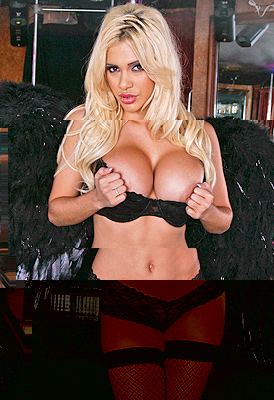 Pornstars Like It Big Carmel Moore Video Trailer
What people are saying about: Carmel Moore - The Problem With Angels pornstarslikeitbig scene
Comment #1
"HO FUCK!" Carmel 'finally!' doing: ANAL?? "FUCK YEAH!! 'Sign Me 'Up!!!"
Comment #2
.Carmel looks like she got her boobs and her lips fuller, not to mention it looks like she finally did somethin with her hair. She looks 10x better, with SO MUCH SEX APPEAL!!! Damn it!
Comment #3
The pornstars like it big scene was OK...nothing over the top. Carmel's new look, on the other hand, is phenomenal. New Tits + Botoxed Lips = More Happy Members Jerking Off. Thank god women are willing to let surgeons make them look so much damn better like this...
Comment #4
I would have loved for this to of been a Species parody than Dark Angel. It wasn't personal all that good of a scene either. Yeah plenty of eye candy without a doubt. She looked great in both outfits. Tony is usually a pretty good performer too. The sex was so slow, I couldn't take it anymore. I really don't know much about Carmel. The only scene I watched was her and Mr Sins BTAS scene. I was shocked that she did anal though. Just not hot enough for a welcome back scene. Nice job though Mr Fame. Snoogans!
Comment #5
She's fucking hot, it's great to see her again, especially doing anal!!!! Sweet
PornstarsLikeItBig Carmel Moore Picture Gallery