Pornstars Like It Big presents: Pornstar Brooke Belle tackling a huge cock at a massage parlor
Scene Title: The Super Stroker Treatment
Storyline: Brooke Belle is sick of dealing with small cocks at work. This situation is stressing her up so she decides to get a massage. All that she wants is to relax and have a big cock to fuck her pussy hard!! So Criss, the massage therapist, offers her the Super Stroker Treatment. He uses his huge cock to massage her whole body and then gives her the pounding of her life!! Brooke fucked that big cock like there was no tomorrow and begged for Criss' load in the end.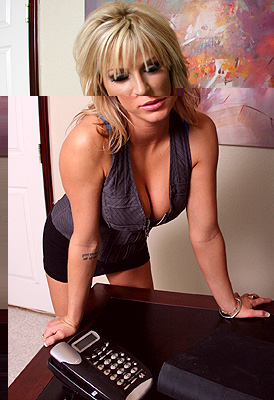 Pornstars Like It Big Brooke Belle Picture Gallery
What people are saying about: Brooke Belle - The Super Stroker Treatment pornstarslikeitbig scene
Comment #1
holly shit guys you blew me away... fucking fantastic... Best Solo Scene ever with Brooke Belle. Good Chemistry Hot fucking action, amazing sex! I have this one on repeat! Don't loose ms belle she's to hot to stop! lets see you guys top this one!!
Comment #2
First off, the description of the two massages was basically the same. It would have been better if he said the Super Soaker Massage ends with a happy ending, just to make the massages sound like they're different. I think Brooke is ok, but this pornstars like it big scene wasn't too good. I didn't think she looked good in this scene, hated her hair style. The sex was nothing special, and the storyline could have been better. Overall I'll give it a 7/10
Comment #3
Brooke Belle is my chick. I've been down with her since I seen her in action. I really don't care much for too many of the top tier chicks. I like the second tier girls cause they put in more work. They get into a scene and make it better. She must prefer guys with bigger cocks cause she does a lot of her scene with them. Very nice tease show for us. She's really tiny and petite so it's hard for her to showcase her assets but she does it with sex appeal. Criss did better than normally which is good for a change. Setup was perfect and you are on a roll Brazzers. 2 erect nips, Snoogans!
Comment #4
Great scene to watch with one's lady!!
Comment #5
Brooke is one of, if not, the sexiest girls out there. Great body, sexy face, those breast are just perfect, amazing girl. Very good scene, the little strip part was a thing of beauty. There was chemistry between her and Criss which make for a really sexy sex scene. Brooke Belle is one the best girls in Brazzers and I hope we see more of her soon.