Pornstars Like It Big presents: Audrey gets fucked hard in her dripping wet pussy
Scene Title: Chatting For Cock
Storyline: Audrey is chatting her way into a fuck session when she invites Chris over after chatting with him. Its when she sees his cock on the Brazzers.com that she gets the idea to find him on the network and get his cock in her wet pussy. She'll get what she wants all right!!!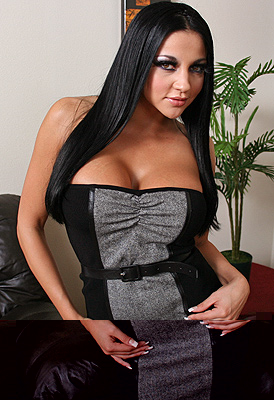 Pornstars Like It Big Audrey Bitoni Video Trailer
What people are saying about: Audrey Bitoni - Chatting For Cock pornstarslikeitbig scene
Comment #1
Audrey Bitoni is my favorite porn star. I love that she is part Italian. I am 100 percent Italian, mostly sicilian, but born in the US. Thank you Audrey for being so beutiful. Marc
Comment #2
thickxasbloodx is absolutely right. I think all the Audry haters should shut up or fuck off. 1. She's so so hot... she's so beyond hot even. She's the only girl girl on Brazzers i would call beautiful. 2. Her tits are awesome! Who give a fuck about the scar. I think she's a legend for getting them that big for us! She used to always wear a bra in her scenes to hide the scars and that was really shit but this is one of the first scenes i've seen her in, not wearing one and i love it. I've been waiting for her to loose the bras for ages and it's much much better! 3. She knows how to suck a cock! Some of the other top actresses are ruuuuuuuuuuuuuuubish. 4. She know how to take a cock well. She doesn't fuck like a virgin. To everyone one else that hates her just go watch Gianna or something.... Not that i don't like Gianna but yeah To staff at Brazzers.... please make sure Audry doesn't start fucking with bras on again just because some stupid c**nts complained about her scars. The TRUE Audry fans don't give a fuck...
Comment #3
audrey is the most fuckable babe ever ! i came so quickly while wanking and watching.love to bang that tight pussy.
Comment #4
Nice face, great bod....but DAMN!, those tits are nasty. YIKES!
Comment #5
Yes I enjoyed this video and actually enjoy watching her big silicone titties bouncing around even with the scars on them! Guys you have to keep in mind, it's not her fault that she got a useless surgeon. In fact if any member here is a litigation lawyer, it might be worthwhile to take Audrey on as a client :)
PornstarsLikeItBig Audrey Bitoni Picture Gallery