Pornstars Like It Big presents: Audrey and Riley in Matar Ramon
Scene Title: Matar Ramon!
Storyline: Pornstar Riley Evans is out for Revenge. She's out to get Ramon's Big Cock and will stop at nothing to get it, taking out any and everyone that stands in her way. Audrey "Gogo" Bitoni is Ramon's newest personal bodyguard and will do anything to protect him. But when she finds out how big his cock actually is, she loses sight herself and the two girls team up to fuck Ramon's huge cock. Revenge is a dish best served.....with a Big Cock!!!!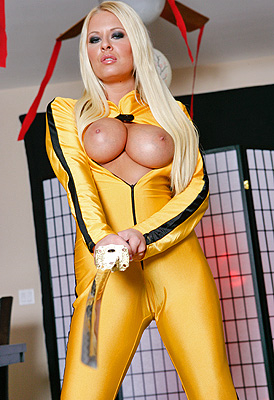 Pornstars Like It Big Audrey Bitoni and Riley Evans Video Trailer
What people are saying about: Audrey Bitoni and Riley Evans - Matar Ramon! pornstarslikeitbig scene
Comment #1
Being that Kill Bill is one of my favorite movies of all time, I'm quite disappointed in how the spoof turned out because it was nothing like any scene in the movie. But, for what was there was still funny and and put together and edited very well. I missed Riley and she needs to be on here more often even, and she looked great in that motorcycle oufit a'la Beatrix Kiddo. The sex was decent, kind of same-old, same old, but watching Audrey fuck is always a joy. And for those complaining about her tits, I'd like to remind you that this is AT LEAST the 2nd time she made this Ramon cat, a PROFESSIONAL mind you, cum early in a in a scene...so settle down...
Comment #2
I guess I must have missed the stereotype in this pornstars like it big scene. It looked like a throwback to old kung fu movies. The black and white was hot but him leaving didn't make any sense. The filming has really been good of late. I thought the staircase sex was gonna be better than when Keiran/Diamond scene. Here of late it seems threesomes aren't going so well when it's b/g/g. Someone is always left out of the action. This was a decent movie spoof not one of the better ones as sex goes. Everything else was damn good. Snoogans!
Comment #3
Hilarious! The whole beginning of this video had me in fits. Ramon's voice dubbing, the sound effects, all of it was golden. Oh, and the fucking is pretty good, too... lol.
Comment #4
from an eye candy standpoint this pornstars like it big scene was fucking hot based on the performers looks. ramon is the hottest stud in porn no doubt and riley evans looked as hot as i ever seen. i will admit that audrey's boob job scars are bad but i will say that she is a beautiful girl and knows how to fuck and suck dick. i absolutely love watching ramon in threesomes because he always manages to squeeze out two cumshots. kudoz to audrey for letting ramon blow it across her tits the first time and for cleaning the cum off of his dick (riley you got in a few strokes yourself, very nice) and for audrey dropping down to share ramon's facial with riley on the 2nd cumshot. audrey you deserve credit for getting involved with both cumshots. riley evans looked molten hot in this pornstars like it big scene and the rc anal on the stairs was mad hot. i know ramon didn't have much cum in his dick in his 2nd cumshot but riley the facial was still nice. as far as complaints, i love fucking on the stairs but this scene for whatever reason seemed lost and lacked heat/intensity. a couple of times it seemed like the cameraman got lost also. i believe these 3 would have performed much better on a bed or sofa. overall, i expected more from this pornstars like it bigscene but i will say that ramon & riley looked damn hot and i would absolutely love to see these two fuck again!!!! riley i bet ramons cum tastes as sweet as candy and i hope you get to fuck him again because girl you look damn hot. more of ramon and riley please brazzers!!!!
Comment #5
People are either going to love or hate this one. I thought it was fun, but I think Brazzers sometimes can get carry away a little too much. The black and white part of it, I found really sexy, i looked great, maybe they should think of shooting a scene that way. The Kill Bill spoof was cool, a little too long for my taste. Audrey was looking great in her "Go Go" outfit, Audrey was cool in her Bruce Lee attire, and I was surprised Ramon could speak english so well, who knew?, lol. The sex was short but sweet, I personally don't like the stairs setup, I could be awkward sometimes, but they did a good job. I know some people don't like Audrey, hey, freedom of speech, I like her a lot but I have to agree that the boob job was a bad, bad decision. I think she is a good performer, maybe she could try other stuff, but i think she is great. By the way, what about some solo scene from Riley? she deserves some scenes to herself.
PornstarsLikeItBig Audrey Bitoni and Riley Evans Picture Gallery