Pornstars Like It Big presents: Audrey Bitoni tracks down a huge dick to fuck
Scene Title: Not bad for a newbie
Storyline: Audrey Bitoni is a new agent for the Big Dick Agency and her mission was to go to Marco Banderas' place and get his Big Cock!! She was very nervous but her love for big cocks pushed her to overcome her fears and knock on Marco's door. Once Marco opened the door it was only a matter of seconds before she started sucking and riding his cock. She really fucked his brains out!! Audrey is a natural and one of the agents with the most potential.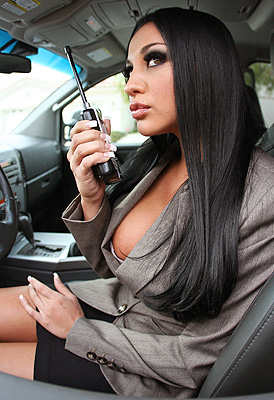 Pornstars Like It Big Audrey Bitoni Video Trailer
What people are saying about: Audrey Bitoni - Not bad for a newbie pornstarslikeitbig scene
Comment #1
Wow, what can I say......... AUDREY BITONI. I think that should explain it all.
Comment #2
Audrey is one of the best and she looks great in a business suit, but that's all about her. This pornstars like it big scene blows because of this Marco cat: His enormous head and jaw rival Barry Bonds, his dick aint that big, his nuts are detracting into his abdomen, his teeth are so big and white they don't look real (like they came from a cartoon), he has a fucking "I love Fiona" tat next to his dick, his English blows, his acting is awful, he can't fuck to save his life (it was all Audrey here), and for fuck's sake he slapped his OWN ass while AUDREY FUCKED HIM in the doggy. I beg you, please, no more of this clown...
Comment #3
Wow this was really bad. The setup was nothing but trash. Not sure where you found Marco but he has no business in porn. I'm gonna call him a thief cause he stole cash from Brazzers. Audrey could have been a brand Harley and this dude couldn't jumpstart her. She really wanted to get through this scene something awful. I wish I could feel sorry for Audrey and the scars on her breasts but I can't. Before she went back to get them bigger they looked really good on the frame of her body. So yes the surgeon take some blame but Audrey takes more of it. 1 super dried up puss, Snoogans!
Comment #4
Audrey is very nice. But brazzers could in their work maybe try to avoid the views of her scars to much. But does it matter when they use this viagra monster of a shithouse dude with his fight for life teeth gritting maniac out of control fuck face? It is a sex site, not a warfighter site for crying out loud. 9 for Audrey. Shit for the dude and Brazzers.
Comment #5
audrey, thank you, thank you, for the awesome facial and post head cleanup. marco thanks for always squeezing out that last drop of cum for the girls to lick off. audrey you are fucking hot and you must love cum! 9.5 star scene could have about ten more seconds of post head clenup (just a suggestion). give marco a chance at a trheesome with audrey and another hot chick. thanks brazzers for a facial, post head cleanup scene!!!!!!!!!!!!1
PornstarsLikeItBig Audrey Bitoni Picture Gallery