Pornstars Like It Big presents: Alexis Amore visits the CockFather because she is dieing for big cock
Scene Title: The Cockfather
Storyline: Desperate after her search for big cocks have not yielded positive results, Pornstar Alexis Amore knew she only had one choice: to make a request to the Don, the Cockfather himself. The Cockfather wasn't pleased that she came to him as a last resort and not as a friend. But in the end, he had to make her an offer she couldn't refuse: he offered her the biggest cock in the family, his own!!!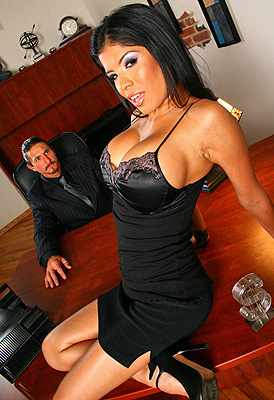 Pornstars Like It Big Alexis Amore Picture Gallery
What people are saying about: Alexis Amore - The Cockfather pornstarslikeitbig scene
Comment #1
Alexis Amore is one of the hottest chicks in the biz today. I just have to ask....why is there an anal tag on this one? I saw no anal.......no big deal either way, but if it doesnt deliver the goods, dont post that tag on it!
Comment #2
Well I'm glad one of my all-time faves made it to the World's Best Porn Site, but I see now why everyone's complaining. Because of her reputation, I have a feeling she came with some ill demands like; "camera on me at all times"; "I'll only work with Tommy cuz I've worked with him in the past"; "no deep-throating"; "no positions where *I* have to do any fucking"; "no facials". Seriously that brain session was worse than a teenager's first bj. Although I have to say, even tho there wasn't any cowgirl, watching her get fucked will never look bad. By the way "The Cockfather"?! Fucking brilliant! Let's see some recuring scenes! I gotta give it up for Tommy fucking Gunn. Seriously, who's better? In a matter of 2 days we saw him play both "Booty Hunter" and "The Cockfather", 2 completely opposite rolls, brilliantly. No wonder he won the AVN award (last year?). And from what I can see, every girl enjoys working with him, plus he does his thing to make sure the focus is on the girl. Keep booking him as much as you can.
Comment #3
Well this was my first look at Alexis Amore and I wasn't feeling her at all. The way the pornstars like it big scene started it seemed like it was gonna have a darker picture i.e. like the Godfather. Not that it would have helped the scene but it would have been cool to see her kiss his cock ring. After seeing that blowjob, she would be running a close second behind a blowup doll. That's twice I have seen Tommy take it easy on these chicks(Ryder Skye). Since when were pornstars made of glass? No cowgirl at all either. I barely saw her skills if it wasn't for a taste of it in doggy. I got a Brazzers Rule: Chicks making DEBUT take a FACIAL. 1 dried up puss, Snoogans!
Comment #4
This HO was one of my faves in her younger days. She knows how to fuck on both holes and suck a dick all the way down to the balls. But in this pornstars like it big scene she either decide to take a pay check or she don't like what she doing no more. When you get older you suppose to be a hotter HO. Hope you get better in other scene your body still smoking. Let's take one big one in the ASS like you use to and get into a blowjob
Comment #5
Since I'm such a huge Fan of Alexis I must say this is her worst outing. Whats up with the bj your better then that Alexis. No reverse cowgirl. She has such a pretty face not to cum on. I hope she didnt stop taking facials. Well lets hope her next outing with Brazzers is better. But still its good to see her back. Lets get a do over Brazzers