Pornstars Like It Big presents: Aletta Ocean fucks the hunters big hard cocks
Scene Title: Nightsuckers
Storyline: Legend has it, when the first man was created from dust, Lilith was created from silt. Every Halloween, this insidious vampire terrorizes humanity. This year, General Lang has a plan to finally end her reign of havoc by sending the two best mercenaries after her. Maybe if they work together as a team, they can defeat her.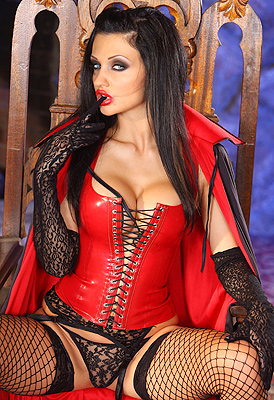 Pornstars Like It Big Aletta Ocean Picture Gallery
What people are saying about: Aletta Ocean - Nightsuckers pornstarslikeitbig scene
Comment #1
mmmmmmmmmmmmmmmm yessssss ! so hottttttttttt ! please give us more more more! love all evil bby! mmmmmmmmmmmmmm yeahhhhhhhhhhhhhhhhhhhhhh!!!!!!!!!!!!!!
Comment #2
Aletta is a smoking hot woman. She does a great job in all her scenes, and this scene was no exception. Brazzers did a great job on this scene, keep it up.
Comment #3
I absolutely adore brunettes with blue eyes! Sindee, Hillary, Capri, & Aletta are so sexy, erotic, & sensuous and they deliver every single time in every single scene they do regardless of whom they perform for! You can't beat that and this scene is nothing short of remarkable!!! It's scenes like this that remind guys of why vampires are sexy. Girls already know but guys dismiss them. It takes a dirty woman like Aletta to show us why they are the sexiest creatures on earth!!!
Comment #4
Something nice to get us in the festive mood for Halloween. I love this time of year because it yields creative parodies throughout the holiday season! If one were to look at a scale when it comes to enjoyable porn, parodies would be at the very top, ranking 10 and personal shit like DWAP would be at the very bottom, ranking -1.
Comment #5
Really cool story with good graphics. On thing about a DP scene is, the guy on the bottom always gets screwed over. He never gets as much action as the guy on top. Aletta even worked up a sweat from the action going on. Never realized her ass was so plump until today. I guess I never checked cause she just so fucking stunning to look at in the face. That corset was super hot on her. I liked the parts where they ran a train on her. I loved the cowgirl when Tommy was making her cum. While that was going on I was watching the silhouette of her sucking Scott's cock. I liked how it ended too with her attacking necks. Nice work again from all involved. Special thanks to Scott for providing a proper facial. Snoogans!