Pornstars Like It Big presents: Military Officer slamming big dick in the army
Scene Title: Full Metal Penis
Storyline: Drill Sergeant Adrenalynn is one tough Bitch towards her new recruits. She knows that being tough is the best way to distinguish the maggets from the big dicks. When Private Keiran Lee shows up with his big cock, she realizes that she may have found her match. It is now to Keiran to drill the drill sergeant's pussy with his foot long cock.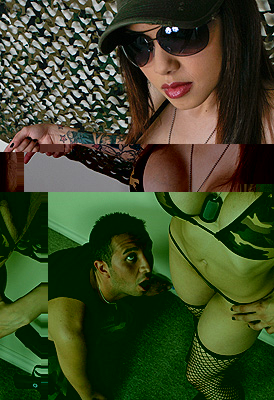 Pornstars Like It Big Adrenalynn Video Trailer
What people are saying about: Adrenalynn - Full Metal Penis pornstarslikeitbig scene
Comment #1
her asshole ring is written in elvish, and it says the one ring to rule them all.(from lord of the rings)
Comment #2
Ok so her RWS scene didn't do anything for me so I didn't bother w/ this "Full Metal Penis" but HOLY SHIT!!!!!!!!! Awesome scene...I totally am into this chick now.
Comment #3
Like your tat's, like your ears, like your flexibility, I think i've seen your bangbros movie a thousand times, I've become a member of ZZ not only because of you, but it was a big part of the reason! ADRENALYNN, You are A TRUE PORN GODDESS!
Comment #4
She's actually gorgeous, and I love her piercings and tattoos and NOT fake-baked, NOT leathery skin. She looks the way she wants to look, and if you don't like it, watch something else. There's a reason why there's so many different types of women on this site. If you want another look, you can go get it, but you don't have to bash her because she choses this aesthetic. She's got loads of confidence and overall baddaasssness. Additionally, this "look" does not mean she will automatically become unsuccessful at doing what she does. There's an entire website with several million members, http://suicidegirls.com/ completely dedicated to women who adopt an alternative appearance. It's pretty fuckin' successful. Next time, keep your negativity to yourself.
Comment #5
Yeah she sold me on her drill seargant part, played it damn well. Can't believe she left dude with that patch on the back of his head, haha. She looked amazing in the fatigue bikini, stockings, boots, hat, and aviators. I wish she would have kept those glasses on longer, cuz they were sexy. The metal in the tongue and the stretched earlopes were turnoff, but it didn't completely distract me. I was kinda disappointed in how short the sex was and I wasn't diggin the postions; the cowgirl was hot for a sec, but wasn't really feelin it and I'm not a fan of the piledriver, reverse cg was good, and I woulda liked to see some cg. She's still a hottie so that made up for a lot of it.
PornstarsLikeItBig Adrenalynn Picture Gallery